THE HOLY SPIRIT AS THE "FOREVER" COUNSELOR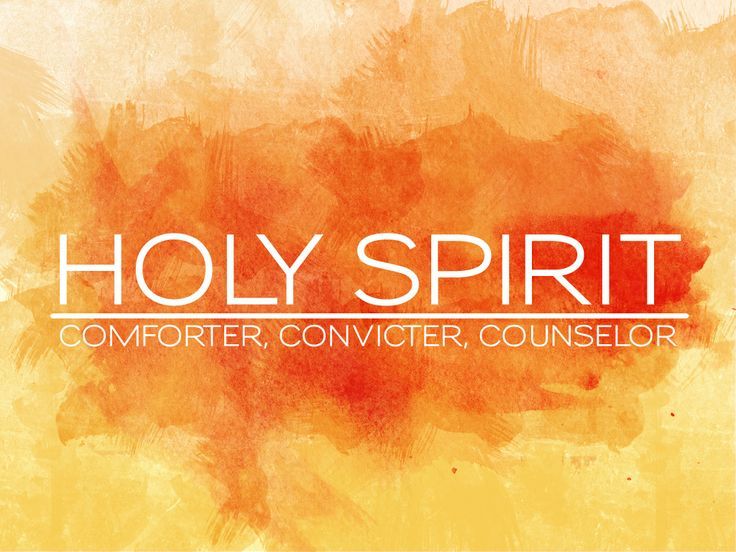 By: Frank G. Tunstall, D. Min.
"I will ask the Father, and he will give you another Counselor to be with you forever" (John 14:16).
I have read John 14:16 many times over the years. But I admit not long ago it was like a brand-new read for me. I discovered the word, forever.
Please let me explain.
Jesus-the-Prophet began His teaching on the Holy Spirit by promising to request His Father to give the Holy Spirit to the disciples. From them the blessing would apply to all of the disciples' followers in every generation. It would be the Lord's way of responding to the love of His followers, expressed in their obedience.
Jesus described the Spirit to the disciples as "another Counselor," and the sense of the statement is another Counselor like Jesus, who would come to them and remain with them forever (John 14:16). Our concept of counselor here derives from the Greek word parákleeton. The English word paraclete is a transliteration of the term, and it is often used as a synonym for the Holy Spirit. Parakleeton communicates such concepts as a consoler, intercessor, and advocate.
A consoler is a person who comes alongside you with a ray of sunshine when your heart is broken with disappointment and pain.
An intercessor is the go-between who mediates between two or more parties to bring them into unity.
An advocate is an attorney who speaks for you when you cannot make your own defense.
These three qualities – consoler, intercessor and advocate – were primary characteristics of the relationship of Jesus with His disciples. Very soon, in a matter of days, Jesus would go to His Father. This meant what Jesus was to His disciples, the Holy Spirit would henceforward be to them. The Holy Spirit has fulfilled the same mission for all Spirit-filled believers from that day to this. The Holy Spirit is a master teacher, and His curriculum is Jesus.
The Holy Spirit as the eternal presence.      
Jesus promised the disciples the Holy Spirit would be with them forever (John 14:16; Psalm 139:7). This means our relationship with the Spirit lasts for a lifetime, but it does not end with death. Instead, it goes with us into eternity. This is an exciting promise that opens a whole new horizon of blessedness. For as long as eternity rolls, God the Holy Spirit will be with us, making Jesus Christ known to us.
We surely need the guidance of the Spirit in our day-to-day living; I freely admit I need the Counselor in my life. But will you, dear reader, let yourself see and feel that the relationship never ends? Think about it. A million years in the heavenly School of the Holy Spirit, and you and I will still be learning about Jesus. That reality explains how much God wants to enjoy eternal relationship with us – you and me!
The Apostle Paul taught: "God raised us up with Christ and seated us with him in the heavenly realms in Christ Jesus, in order that in the coming ages he might show the incomparable riches of his grace, expressed in his kindness to us in Christ Jesus" (Ephesians 2:6-8).
Yes, heaven will be a busy place with lots of teaching and learning taking place. In that eternal process we will continue to have the Holy Spirit as our counselor to aid our growth in grace. This understanding alone should motivate all believers to want to be filled with the Holy Spirit.
Jesus prophesied:
The Holy Spirit would come and quench the spiritual thirst of anyone who accepts Jesus as the Son of God, anywhere in the world – anyone.
The abiding presence of the Holy Spirit will continue around the clock, day after day.
The Spirit's presence will remain as long as time exists, and then when time gives way to eternity, the Spirit will continue as companion and teacher "forever" (John 7:37; 14:15).
The Apostle Paul was quoting from Isaiah's prophecy about the millennium when he wrote to the Corinthians, "Eye hath not seen, nor ear heard, neither have entered into the heart of man, the things which God hath prepared for them that love him" (1 Corinthians 2:9; Isaiah 64:4, KJV). Isaiah gave a taste of what the "forever" of the Holy Spirit will mean.
"The past troubles will be forgotten and hidden from my eyes. Behold, I will create new heavens and a new earth. The former things will not be remembered, nor will they come to mind. But be glad and rejoice forever in what I will create, for I will create Jerusalem to be a delight and its people a joy. I will rejoice over Jerusalem and take delight in my people; the sound of weeping and of crying will be heard in it no more.
"Never again will there be in it an infant who lives but a few days, or an old man who does not live out his years; he who dies at a hundred will be thought a mere youth; he who fails to reach a hundred will be considered accursed. They will build houses and dwell in them; they will plant vineyards and eat their fruit. No longer will they build houses and others live in them, or plant and others eat" (Isaiah 65:16-22, NIV).
The promise is also expressed in the celebration around the throne of God after the Lord Jesus, the Lamb of God, opened the sealed scroll of redemption. "Day and night" the four living creatures "never stop saying: "Holy, holy, holy is the Lord God Almighty, who was, and is, and is to come" (Revelation 4:8).
What a blessed promise: the Holy Spirit will be with us forever, and we will never tire of celebrating the grace of God expressed in the death and resurrection of Jesus that assures us of eternal life.