Joseph, the Forgotten Man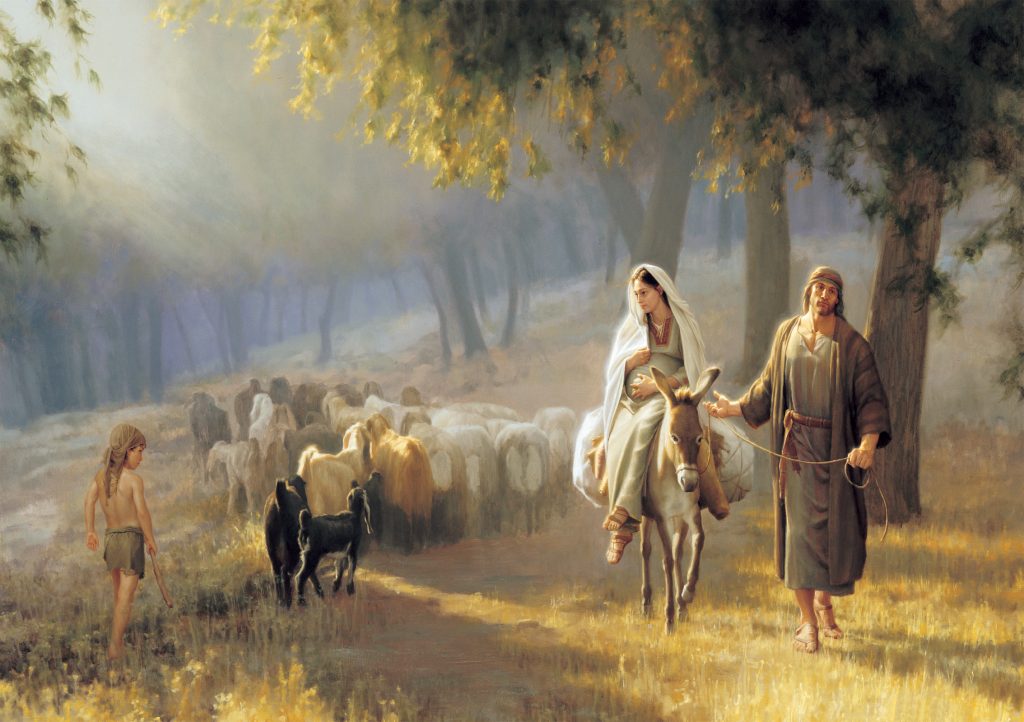 Joseph was an ordinary Jewish carpenter who was engaged to an ordinary Jewish girl about 15-years-old; her name was Mary.
The New Testament writers tell us nothing Joseph spoke, not a single word, but he certainly can be admired for how he lived and what he did.
Joseph was a man who liked to stay in the background, and especially far away from the power center of Judaism in Jerusalem.
His reputation revolved around his carpentry shop. Day after day he made his living with his strong, skilled hands. He had a gift that enabled him to look at a piece of wood and see the angel that could be carved out of it.
Joseph was a son of Abraham and of King David. He greatly feared the God of Abraham, Isaac and Jacob, and believed with his whole heart Messiah would come one day. His character was sterling according to the Law of Moses and his moral integrity was unstained.
He believed in angels, and knew in his heart they did appear to people from time-to-time, and give them instructions.
Joseph had the ability to complete what others started but for whatever reason would not be able to finish. He could do it with hand carved furniture. He would soon do it with an infant baby boy not his own who did not have an earthly father.
He believed in the Holy Spirit too, and understood the Spirit spoke to people and guided their lives.
This oft-forgotten man made his living in a sleepy and harmless village named Nazareth in first century Israel. He was the man the Holy Spirit chose to receive four direct revelations from God, with each of them revolving around the nativity story, the incarnation of Jesus.
Joseph, Faithful in Disappointment.
Joseph and Mary were engaged to be married. Before the wedding Mary did the honest thing and told Joseph she was expecting a baby. Her explanation was the Holy Spirit had come on her.
Joseph, righteous man that he was, probably spent some sleepless nights thinking about that admission – 'my bride is pregnant.' He probably got some rest after he concluded the best thing he could do was treat Mary with kindness and put her away privately. He cared for her too much to expose her to public disgrace.
While he slept an angel of the Lord appeared to him in a dream.
"Joseph, son of David, do not be afraid to take Mary home as your wife, because what is conceived in her is from the Holy Spirit. She will give birth to a son and you are to give him the name, Jesus, because he will save His people from their sins."
Joseph, this oft-forgotten and behind the scenes man obediently did what the angel commanded him. He took Mary home as his wife. No one should ever doubt Joseph was a tough man – secure enough in his own person to obey God, and holy enough not to consummate the marriage until Baby Jesus was born. It certainly wasn't how he had pictured their wedding night.
Yes, disappointed, but faithful – for more than nine months.
We should never forget the Holy Spirit is a counselor and comforter. The same Holy Spirit who sent Gabriel to instruct Joseph and Mary strengthened each of them to put the baby ahead of their personal desires.
We can imagine it wasn't long and every tongue in Nazareth was wagging about Mary's pregnancy.
"Angel of God? Yea, right – hum, don't think so!"
I have also wondered how Joseph came to permit Mary, his young and very pregnant wife, to make the 70-plus mile trip south, apparently alone, to the home of Zachariah and Elizabeth. She lived there with them for about six months. The angel had set the stage for the trip when he told Mary that her senior adult relative, Elizabeth, was in her sixth month. My guess is Joseph agreed to get his wife away from the sharp and cruel tongues in Nazareth who were so sure Mary's baby was illegitimate. Mary's pregnancy was the talk of the town.
The trip, perhaps in a caravan, took at least a week to reach Ein Karem, a village in the Judean Hills that was Elizabeth's humble home, about five miles west of Jerusalem.
When Mary arrived, the Holy Spirit crossed Elizabeth's threshold with her; the scene was like a Pentecost! Elizabeth was filled with the Holy Spirit and prophesied. Mary composed and sang on the spot, unrehearsed, what is known to this day as the Magnificat. Yes, if Mary needed any reassurance for her journey of life ahead, we can be sure the presence of the Holy Spirit provided it and calmed her spirit.
Joseph showed his inner strength again as he waited for six months for Mary to get back home.
No phone call, no email, no Facebook, no postal system, no airplane, no car, or train – just 180 long days, and longer nights.
When Mary did return home, we can only imagine how happy Joseph was to see her.
She was visibly showing her pregnancy.
Joseph, a strong and patient man
About eight weeks later, to obey Rome's emperor, Caesar Augustus and his special tax, Joseph took Mary south with him to Bethlehem. She was now heavy with child. I wonder if Mary's mom was afraid the trip could turn into tragedy and begged Mary not to try it.
A 70+ mile trek by a mother-to-be nine months' pregnant.
Joseph was a strong man. He cared for Mary all along the way and showed her great patience. With Mary needing to make frequent stops the trip could have taken two weeks instead of one.
After they reached Bethlehem, the city of David, Mary gave birth to Baby Jesus in a cave that was a cattle stable. It was Mary's first baby and probably Joseph's first job as a 'midwife.'
Some weeks later Joseph moved Mary and Baby Jesus to a house.
For some time wise men from the East had been following the child's star that amazingly led them directly to Joseph's home. "On coming to the house, they saw the child with his mother, and they bowed down and worshipped him. Then, they opened their treasures and presented him with gifts of gold and incense and myrrh."
I can imagine their eyes opened wider and wider and their jaws dropped as they saw all of that gold being unpacked, probably more than they had ever seen. Next came the highly valuable frankincense and myrrh.
Joseph is not mentioned in this scene at all. But the silence takes nothing from him as a strong husband and stepfather. Joseph had a small ego, and he was a man of few words. The background is where he felt most comfortable. The baby was not his, but it was his because he had already adopted Baby Jesus into his heart. Joseph would finish as a parent what the Holy Spirit had started in the incarnation, and provide for the baby as he grew up.
It was probably only a few days after the Wise Men left that Joseph had a second dream. "An angel of the Lord" said to him, "take the child and his mother and escape to Egypt. Stay there until I tell you, for Herod is going to search for the child to kill him."
Joseph showed his manhood again. He believed the angel and awakened Mary, and they immediately started packing. Mary deserves honor too –  she did not get the revelation, but she trusted her God-fearing husband. They left with their infant under cover of night, and headed for Egypt, 60-plus miles away.
3. Joseph, surrounded by danger, but out of danger.
For years I wondered how Joseph and Mary lived in Egypt, and provided for a baby. Then one day it dawned on me that Jehovah Jireh motivated the Wise Men to make that long trip to Bethlehem and present a gift of all of that gold as well as those high shekel spices. That shower of wealth financed their stay in Egypt and was surely a well-desered honeymoon for them.
Those wise men were living much closer to God than anyone in the Jewish Sanhedrin!
"After Herod died, an angel of the Lord appeared in a dream and said [to Joseph], 'Get up, take the child and his mother and go to the land of Israel, for those who were trying to take the child's life are dead.'" It was Joseph's third personal revelation regarding the Christ child.
The last thing Joseph wanted to do was put Baby Jesus' life in danger, or his mother's. By this time, he might have heard about Herod's wicked order to murder in cold blood all of Bethlehem's boys two years and younger. This quiet, behind the scenes and unassuming man recognized the voice of God again and believed this instruction too – it was safe to head for home. Mary did not get this revelation either, but she believed her husband. We know nothing about how he told her.  They began the trip probably on foot, carrying a child that by this time weighed some 25 to 30 pounds. That's a lot of extra weight on a 60+ miles walk back to Bethlehem, but their love for Baby Jesus made it light as a feather.
Alarm bells.
Joseph reached the border of Israel with his son and the baby's mother. He quickly learned Archelaus, brutal-King Herod's son, was ruling Judea and Samaria. The raw fright from that news was palpable and his heart began to pound; with Archelaus in power the baby was threatened. It was probably that same night that the Spirit spoke to Joseph again in a dream, his fourth, and redirected his travel plans. This time he headed to the Roman district of Galilee. The province was not ruled by Archelaus, and Baby Jesus would be safe. It also meant Joseph and Mary could make their home again in Nazareth. We know nothing about the welcome the villagers gave them.
The final reference to Joseph in Holy Scripture came some twelve years later. He and Mary took Jesus to Jerusalem for the very sacred Feast of Passover. After the celebration these Godly parents headed home. They walked all day in the company of the other pilgrims, thinking Jesus was behind them in the crowd.
Jesus wasn't.
These Godly parents panicked and hurried back. They searched Jerusalem for three days, wondering if Jesus was dead or had been captured, and a thousand other terrible thoughts. They also felt like a failure as parents, believing they had disappointed God and the child because they had not taken good care of him. Finally, they found him in the temple, talking with the doctors, asking them questions and answering theirs. Mary did the talking, and in her deep frustration, she was very firm, "Why have you done this to us? We've been looking for you for three days!"
"Why were you searching for me," the lad answered. Didn't you know I had to be about my Father's business?"
The Bible tells us nothing else about Jesus as he grew on up, or Joseph or Mary – the next 18 years are silent.
At some unidentified time in those quiet years, Joseph himself died. He had done his part and faithfully fulfilled his assignment.
Joseph is remembered as the mostly silent and forgotten man in the background. He was also very strong and 100 percent faithful.
Every church around the world needs at least one Joseph, and would be greatly blessed to have many.
Dear reader, do you know a 'Joseph' in your church?
Joseph did not live to see Jesus in His ministry, but he has the distinction in heaven of claiming Jesus as his son for all eternity, even while Jesus is also the Son of God.