PEW POLL: EVANGELICALS NOT DECLINING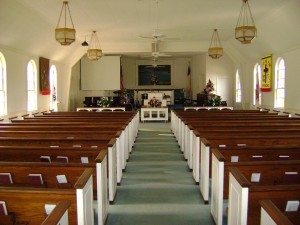 By Frank G. Tunstall
Christianity as a whole in America is definitely on the decline, but evangelical Christianity is not. Two common doctrinal values that identify evangelicals are belief in the Bible as the inspired word of God and the born-again experience. Based on this definition, Pentecostals are appropriately numbered among evangelicals.
This summary is according to the recent Pew Research Center study of the American religious landscape from 2007 to 2014. The complete study can be accessed at pewforum.org/2015/05/12/americas-changing-religious-landscape.
The losses in American Christianity are coming from the steep declines of mainline protestant denominations, not from among evangelicals. The Poll found evangelicals in America are winning new converts about as fast as they are losing them.  
These findings should spark optimism in the hearts of all of us who classify ourselves as Pentecostal. At the same time it should challenge us to re-double our efforts to advance the Lord's Great Commission. Without trying to be exhaustive, congregations that believe the Bible will also believe in the:
Virgin Birth of Jesus, the
Exceeding sinfulness of man, the
Jesus' atoning sacrifice as the antidote for man's sinfulness,
Jesus' bodily resurrection from the dead, the
Gift of the Holy Spirit, the
Second coming of Jesus, and the
Promise of eternal life with God in heaven.
The Gospel is good news. It is worthy of being proclaimed, and it will attract a following if it is faithfully and lovingly announced with passion and authority.  
Five highlights follow from the US Religious Landscape Study, conducted among more than 35,000 adults in English and Spanish, showing how American religion has changed from 2007 to 2014:
 1) Evangelicals have remained remarkably stable
Over the past seven years, even amid all of the pressures in American culture against the Gospel, evangelicals have lost less than 1 percent of their share of the population, holding steady at about 1 in 4 American adults (25.4% in 2014, vs. 26.3% in 2007) and preserving their status as the nation's largest religious group.
 In contrast, mainline Protestants have lost almost 3.5 percent of their population share and are currently less than 15 percent of American adults. Catholics, for example, lost about 3 percent of their population share and are currently about 21 percent of adults.
The drop in Christian affiliation is particularly pronounced among young adults.
Evangelical churches added more than 2 million people to their ranks, up from 59.8 million in 2007 to 62.2 million in 2014. Meanwhile, mainline churches lost 5 million people. "As a result, evangelicals now constitute a clear majority (55%) of all US Protestants," noted Pew.
 For one example. NewSpring is a megachurch in South Carolina. The church leadership  baptized over 6,500 people and worship attendance grew by 10,000 in 2013. In contrast, all of the Episcopal churches in America produced about 12,000 adult confirmations, accompanied by a drop in attendance of 27,400 in the same year. 1
2) The label "evangelical" is more popular among all Christian groups
Today, all Christians are more accepting of the term, "born again," and more likely to consider themselves "born-again" or evangelical. Pentecostals lead all others in this area, with 86% of Pentecostals confessing to the born again label. This includes 72 percent of those in historically black Protestant churches, up from 67 percent in 2007.
Some Protestant denominational families are quite divided on this measure, including Methodists (45% born-again or evangelical vs. 51% no), Presbyterians (42% yes vs. 55% no), Lutherans (33% yes vs. 63% no), Adventists (63% yes vs. 29% no).
 3) Evangelicals convert many and retain their kids better
Pew found a "remarkable degree of churn" in the US religious landscape. But evangelicals are the "major exception" to the national pattern of Christian decline, and the only major Christian group in the survey that has gained more members than it has lost through religious switching.
Over the past seven years, evangelicals lost almost 8.5 percent of adherents and gained almost 10 percent for a net gain of 1.5 percent since 2007.
By comparison, Catholics had a net loss of nearly 11 percent due to religious switching, while the unaffiliated had a net gain of more than 13 percent. This suggests when the switches are made, the higher percentage are gravitating to independent churches. The share of evangelicals identifying with nondenominational churches has grown from 13% to 19%.
Pew found "there are more than four former Christians for every convert to Christianity."
More than 60 percent of current evangelicals were raised as evangelicals.
Pew found that overall evangelicals retain two-thirds of their children. By comparison, Protestants at large retain less than half of their children. Pentecostals, the Pew study found, retain only 50%.
The percentage of college graduates who identify with Christianity has declined by nine percentage points since 2007 (from 73% to 64%). Religious "nones" (people who claim no religious affiliation) now constitute 24% of all college graduates (up from 17%).
Hindus and Jews continue to be the most highly educated religious traditions. Fully 77% of Hindus are college graduates, as are 59% of Jews (compared with 27% of all U.S. adults). These groups also have above-average household incomes. Fully 44% of Jews and 36% of Hindus say their annual family income exceeds $100,000, compared with 19% of the public overall.
This area of the study – retaining our children – should cause great concern and spark prayerful reevaluation in Pentecostal ranks. It should also cause us to appreciate even more our church colleges as we work to make them even more attractive to our young people.
 4) Evangelicals are increasingly diverse
Today, more than one-third of US adults are non-white who identify as born-again or evangelical Protestants, regardless of denomination. These include Black, non-Hispanic, Hispanic, and other races. Clearly the American evangelical church is becoming more ethnically diverse, with the Hispanic population of believers growing the fastest.
 About a quarter (24%) of Americans in evangelical denominations are non-white, up from 19 percent in 2007.  
Today, 19 percent of Hispanics identify as evangelicals, as do 14 percent of blacks and 23 percent of all other minorities.
Among evangelicals, Asians are the youngest (34% are ages 18 to 29), followed by Latinos and blacks.
 5) Who evangelicals marry
Three-quarters of evangelicals marry coreligionists, more than historically black Protestants (65%), mainline Protestants (59%), and the unaffiliated (56%). This may account for some of the steady evangelical numbers," Pew reports, "as married people tend "to be more religiously active than unmarried people."  (The study only examined marriages that were still intact.)
The American evangelical population is also getting older. Almost seven in 10 evangelicals had no children at home in 2014, more than the 65 percent who had no children at home in 2007.2
 This aging of the evangelical community should also spark prayerful introspection and much study.
1Ed Stetzer's Blog, The Exchange (May 15, 2015). "The Evangelicalization of American Christianity: My Piece for The Washington Post."
2 The Pew Study study gives no information to suggest how individual denominations, like our own IPHC, is continuing to grow.