Delivered Three Times from Coronavirus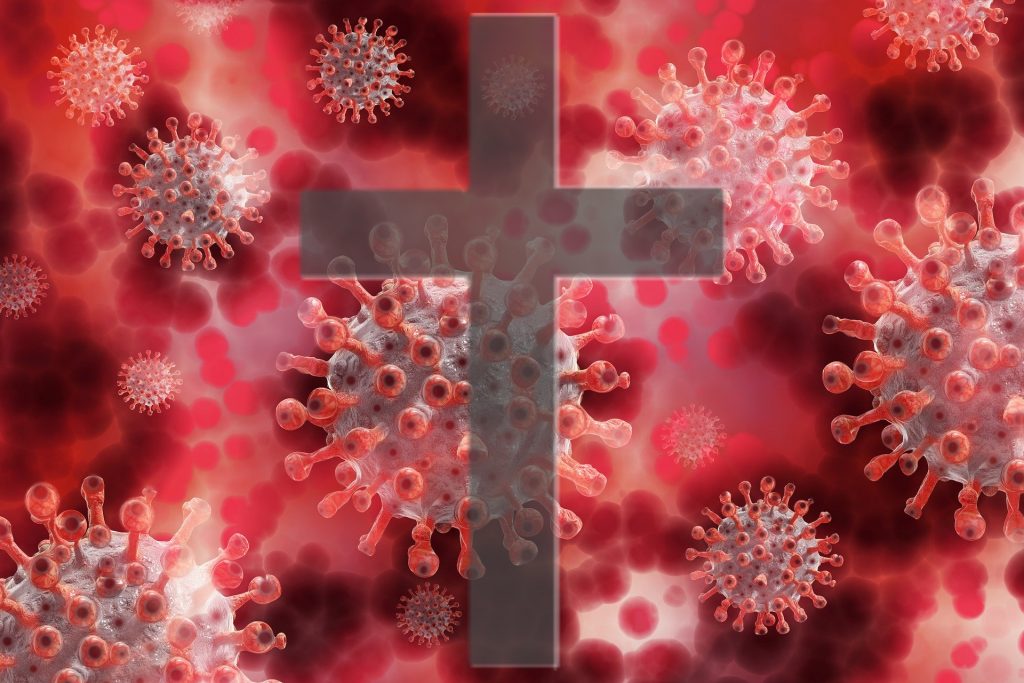 By: Frank Tunstall
Lu and I 'celebrated' our 57th wedding anniversary March 29, with my having the Corona virus and quarantined in the hospital in Yukon, OK. The nurses kindly arranged for us to talk a very few minutes and see each other on cell phones. It's not the way a couple wants to celebrate their anniversary. But for us, we considered it a miracle that I was alive. Since then, the Lord has given me my health back. Baby Doll and I for years have enjoyed walking in our neighborhood, and it has been a good way to regain my stamina. A few days ago, we made our first mile since my being released from the hospital; we walked very close to another one this morning.
God is good, and thanks again to everyone who prayed for us during those dark days.
Our story has a second blessing. Baby Doll and I were together the whole time I was at home growing weaker and weaker before going to the hospital. At the time we did not own a face mask and did not know they were important. When my fever reached 104 and my oxygen level started dropping, Franklin and Dena, our children, called for an ambulance to take me to the hospital.
Baby Doll has not been in the best health for some time and is dealing with memory issues; I consider it a privilege to be her primary care giver. Medical researchers say she would have been a prime candidate to lose the fight with the deadly virus; 13 percent of seniors in their 80s do, according to one recent study. This is especially true with patients having complicating medical issues like my Baby Doll. Lu was by my side all the time as my symptoms became more and more pronounced: high fever, dropping oxygen level, the hacking dry coughs. With me the diagnosis also included pneumonia, and the doctor said I was in the early stages of being septic.
No question about it. Baby Doll was thoroughly exposed to the virus, and so were Dena and Franklin, but the virus never struck Lu or our children. In fact, neither Lu nor the children to this day, over a month later, have had even one of those symptoms – not one. The children are our third miracle.
After I was dismissed from the hospital and completed my 14-day quarantine, Franklin wanted me to take Baby Doll to the clinic here in Oklahoma City that tests for antibodies. Sure enough, Lu had the antibodies in her blood. This confirms that without her knowledge she had come in contact with the virus at some prior point, but miraculously, the virus did not prevail. Lu was only made asymptomatic. The cruel, invisible killer did not touch her. Lu's testimony is she felt normal the whole time during the long ordeal. She had silently won her battle when Baby Doll didn't realize it; neither did I, nor the children.
I wonder how many times the Lord has fought our battles when we did not realize it was the commander of the army of the Lord who was defending us.
Some through the waters, some through the flood;
Some through the fire, but all through the blood.
Some through great sorrow, but God gives a song,
In the night season and all-the-day long. (See Isaiah 43:2).
God Leads Us Along lyrics © Warner Chappell Music, Inc.
The blood of Jesus Christ God's Son delivered me as I went through the waters, the flood, the fire, and great sorrow.
The blood of Jesus Christ God's Son delivered my Baby Doll and our children too.
We praise the Lord for His marvelous grace that we celebrate every day. God is good.
Oh yes! I have good friends who enjoy teasing me, saying Lu escaped the symptoms of the virus because she is tougher than I am. I truly am not offended at their jesting because I know they're right!
Thank the Lord for giving me such a strong wife.