"Convert or Die:" In a Caliphate-ridden Iraq, Christians Face Ultimate Choice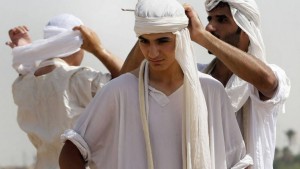 Author Unknown
Originally posted at Fox News
In Iraq today, Assyrian Christians have two blunt options — convert or die.
With the radical Islamic State's proud announcement that "the caliphate is here" (that note is painted on the walls of their cities), the next step in their plan is to systematically eradicate Christians from the area.
The news coming out of the war-torn nations of the Middle East just gets worse.
Perhaps the most disturbing, according to a report from the United Kingdom-based charity Aid to the Church in Need, is that Christianity in Iraq could die out in five years — in 2020.
During the reign of Saddam Hussein, there were 1.4 million Christians living in Iraq. Today, 260,000 remain — although perhaps not for long.
Western nations have been asking the question for months now: What, if anything, should they do?
In a statement last week, British Prime Minister David Cameron addressed the brutality against Christians in Iraq.
"Every day in countries across the world, Christians are systematically discriminated against, exploited and even driven from their homes because of their faith," he said. "Now is not the time for silence. We must stand together and fight for a world where no one is persecuted because of what they believe."
President Obama has made no such statement about the ongoing Christian genocide.
A key advocate for the victimized Christian community in this region is Jean-Clement Jeanbart, who is the Greek Melkite Catholic archbishop of Aleppo, Syria. Despite nearly losing his life twice, he remains steadfast in his support, saying he will not leave his people or his homeland.
The archbishop leads the Christian community in Syria, on the battlefield where ISIS hopes to expand its territory. Jeanbart acknowledges that this is "one of the most important challenges of our 2,000 year history."
"I would sacrifice my own life to be in Syria. It is the first church in the world. Like the captain of a ship, I won't leave until everyone is safe," he said.
The archbishop has made many statements hoping the West would begin to understand the type of cruelty and fear Christians endure.
"If ISIS comes back we may be in danger of losing everything," he said. "There is a fundamental threat to Christianity from ISIS. They have killed plenty of us. There is an existential crisis."
Those in his Syrian town, as well as the hundreds of thousands of others in Iraq, have suffered horrible atrocities at the hands of the jihadis.
"Many people have been abducted, many people have been killed, many people have been beheaded, many people have been persecuted," he said. "It is a terrible situation. They do not accept anyone different. Anyone who is not like them and with the same choices has not got a right to live."
The Christian communities in Iraq and Syria were among some of the first in the world.
"We hope that this war will end soon so we can continue to remain in this country, which is our country, where are ancestors are laying, and where we have been for 2,000 years. We belong to all this history and all this civilization," he said.
Diane Yaqco, a spokesperson with the group A Demand for Action, has called on Western nations to answer the call and defend Christians who face certain death at the hands of ISIS.
"We plea and beg the international community to intervene immediately," she said. "We have been driven out of our ancestral lands. We have been killed and crucified. The international community must act now to save lives of others kidnapped."