MODERN-DAY MARTYRS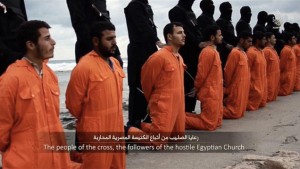 BY Richard Greene
With cancer eating away at her, the Iraqi woman faced a devilish dilemma: convert to Islam and receive treatment or remain true to Christ and die.
Ten days later she was dead.
The 45-year-old woman and her husband had made the treacherous journey late last summer to the hospital in Mosul in northern Iraq from their small village 16 miles away. A guard affiliated with the Islamic State (ISIS) confronted the couple when they arrived. Islamic State forces had recently overrun and seized Mosul and had begun persecuting Christians.
Sneering at the two because of their Christian faith, the guard barked an ultimatum: convert to Islam as the price for entrance.
Not hesitating, the woman responded: "I am not going to leave the cross of Christ. I will not abandon it. For me, a love of life is not as important as the faith. The desire to go on living is not as important as my faith."
The woman and her husband returned home. She died with her husband of 28 years and their 19-year-old and 8 year-old sons at her bedside.
According to her husband, her final words were: "I am going to hold onto the cross of Christ. I refuse to convert. I prefer death to abandoning my religion and my faith."
Stories of persecution such as this one reported by the 21st Century Wilberforce Initiative have spiked and are playing out in all corners of the globe, evidenced by the almost weekly news reports of genocidal brutality, including:
The haunting photographs of 21 Coptic and 30 Ethiopian Christians kneeling in the surf moments before their grisly executions at the hands of ISIS terrorists are glaring reminders that following Jesus could require paying the ultimate price.
In Kenya, armed al-Shabab gunmen linked to al-Qaida summarily gunned down 148 Christian students on a college campus, calling them out for their faith before murdering them.
Driven by religious hatred, Muslim migrants threw a dozen Christians overboard into the Mediterranean Sea as their boat of 115 passengers attempted to navigate the dangerous crossing from Libya to Italy.
Pledging their allegiance to ISIS, the jihadist group Boko Haram has adopted a similar religious cleansing strategy as they instigate murderous rampages across Nigeria.  A recent attack involved Boko Haram militants disguising themselves as pastors and killing 24 people attending church services in Nigeria's Borno state. These are the same militants who kidnapped more that 250 teenage girls in northeastern Nigeria last year. While other Nigerians have been rescued, these girls remain missing.
What's disturbing to Todd Nettleton, director of media and public relations for Voice of the Martyrs, is the gloating by ISIS after their beheading of Christians. "Radical Islam is increasing, and everywhere it rises up, Christians are paying a price for that," Nettleton said. "But what's different here is that groups such as ISIS are not only targeting Christians, they're celebrating the targeting of Christians… They want the world to know this is what they're doing to Christians."  
More than 70% of the world's population lives in places where there is some form of religious restriction, discrimination or ongoing persecution. Denominations that deploy Christians…, are closely monitoring the [world's] hotspots.
3 Action Steps
Though the situation is grim and will most likely deteriorate – especially since the Bible promises persecution for those who follow Jesus Christ (2 Timothy 3:12) – the church is not without options.
Become educated about the persecuted church. And pray for specific Christians who are suffering for their faith…
Adopt a prisoner of conscience and write letters to congressional representatives, senators and government embassies in Washington, D. C. on their behalf…
Pastors should preach on this topic and dig into the scriptures with their congregations to come up with an appropriate theology on persecution and a Biblical response to it…
One pastor who has taken action is Steven Khoury, whose evangelical church is in the Arab section of East Jerusalem. His Uncle George was martyred when Khoury was young and he himself is no stranger to persecution.  He has been beaten by radical Muslims for preaching Jesus, just as have many of his church members. Their church has been firebombed, and they have been kicked off their rental property three times by landlords under pressure from Isalamic extremists.
Khory was recently invited to New York to speak before the United Nations, to give a voice on behalf of the persecuted church. Khory delivered his U.N. message with great passion, his voice sometimes cracking as he recounted his own story of counting the cost to follow Christ.
"The driving force for many fanatics, like ISIS, is commitment," he said. "'I am just as committed to die as [they] are to kill me. 'Death, where is thy sting? Grave, where is thy victory?' I have tasted His grace, and I have seen the signs of His coming glory," Khoury added.  "I have seen His miracles. I'm here to tell you, it's all worth it!"
Excerpted from DECISION MAGAZINE, A Publication of the Billy Graham Evangelistic Association, Volume 56, Number 6, June 2015, pp. 20-22. Copyright 2015. Used by permission.