SMART PEOPLE AGREE WITH GOD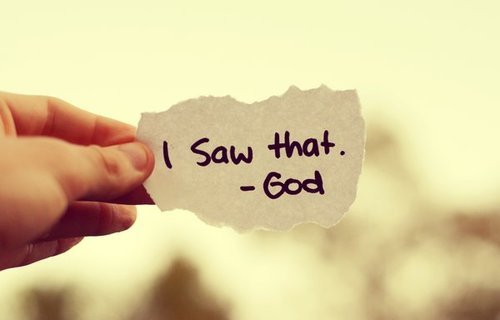 By: Frank G. Tunstall
The masterpiece portrait of the "righteous Father" is Jesus Himself, our sinless Savior (John 8:46;17:25). He was impaled on three nails on a splintered cross to save all who repent and accept Him as the Son of God.
We so easily look at our sins and justify ourselves, thinking my sins are not that bad. We also use comparisons turning a neighbor's bushels of goodness into pints, while we turn our own ounces of righteousness into tons. But please receive this – please: the issue is not how bad you think your sins are, but how offended God is because of your sins.
Please – smart people agree with God!
When we stand at Jesus' cross the Holy Spirit helps us realize the awful death He died. My sins, and yours, cost Jesus His life. Our sins are so bad it took Jesus death to redeem us. Jesus died not just for me, but also because of me.
Every person anywhere in the world will perish who does not accept Jesus Christ as God's Son; that, in fact, is exactly what Jesus told Nicodemus (John 3:16). And to reject Jesus is to reject His Father (John 12:44-45, 49; 15:23).
Paul wrote to the believers in Rome, "The wages of sin is death but the gift of God is eternal life in Christ Jesus our Lord" (Romans 6:23).
The Apostle James penned that there is a cycle to sin, and it starts with temptation:  "When tempted, no one should say, 'God is tempting me.' For God cannot be tempted by evil, nor does he tempt anyone; but each one is tempted when, by his own evil desire, he is dragged away and enticed. Then, after desire has conceived, it gives birth to sin; and sin, when it is full-grown, gives birth to death" (James 1:13-15).
The Gospel of Jesus Christ is "good news" because it gets the diagnosis right regarding the sinfulness of all mankind, of every person anywhere in the world. It is easy to believe the sins of the worst among us cost Jesus His life. But please be careful, please, because the sins of the best among us were wicked enough too.
That is the diagnosis.
It is painful for me even to think about Jesus so distraught He would fall face down on the ground in Gethsemane to pray to His Father – and do it because of the load of our sins – yours and mine. Am I alone or does the picture of Jesus prostrate, face down on the ground in anguished prayer pain you too? Are our sins that bad?
We answer yes, and worse.
We will never be able to appreciate the depth of our sinfulness until we agree with God and let the crucifixion of Jesus define how bad our sins are in the eyes of a righteous God. Our sins are so bad it took Jesus' death on the cross to fix the problem.
The Apostle Paul summarized the gospel saying to the Corinthians: "Christ died for our sins according to the Scriptures, he was buried, [and] was raised on the third day according to the Scriptures" (1 Corinthians 15:3-4). The path home, therefore, includes turning our hearts to our Lord in genuine sorrow so that we confess: "I acknowledge you, Jesus, as the Son of God and my Savior. I'm sorry; please forgive me for all of my sins. I did not realize how badly my sins hurt you" (see Genesis 6:6).
A veteran parachutist picked up his parachute bag and strapped himself in, taking for granted the parachute was inside and folded perfectly. He stepped into the plane, flew into the sky, and readied himself for the jump. When they were over the landing zone, he leaped out of the plane. With his arms extended, he sailed for about thirty seconds. Then he reached up and pulled the parachute cord. But nothing happened. After a few seconds of awful terror, he splattered into the ground. The medics who picked up the body found no parachute was in the bag.
Why did he die such a needless death? The answer is obvious: if you are going to jump out of airplanes, you have only one way to land safely on the ground – with a parachute.
If you are going to escape the black, moral midnight of eternal separation from God in hell and gain eternal life, you have only one Savior, and His name is Jesus.
What makes the gospel such good news is that it gets the diagnosis right and the antidote. The cross of Jesus is the best portrait of both the sinfulness of sin, and of the love of God. The cross shows what it cost Jesus to fix our problem, and in doing so reveals how bad sin is in the eyes of God.
The cross of Jesus also shows the great love of God in that Jesus loved us so much He was willing to pay that price to save anyone who comes to Him in heart-felt repentance, asking for His forgiveness.
The gospel is also good news because of its guaranty. The warranty of the gospel is that Jesus will not cast out anyone who comes to Him in genuine repentance (John 6:37). Repentance is a picture of a person who realizes he is on the wrong road, so he turns around, goes back and gets on the right road. Yes, even a trillion times out of a trillion the Lord will forgive and forget. He also adopts us into the family of God. Then He rewards us with the gift of eternal life.
"Anyone united with the Messiah gets a fresh start, is created new. The old life is gone; a new life burgeons! Look at it! All this comes from the God who settled the relationship between us and him, and then called us to settle our relationships with each other. God put the world square with himself through the Messiah, giving the world a fresh start by offering forgiveness of sins.
God has given us the task of telling everyone what he is doing. We're Christ's representatives. God uses us to persuade men and women to drop their differences and enter into God's work of making things right between them.
We're speaking for Christ himself now: Become friends with God; he's already a friend with you.
How? you say. In Christ. God put the wrong on him who never did anything wrong, so we could be put right with God" (2 Corinthians 5:17-21 Msg.).